Carson Moore
Director of Aeroflow Diabetes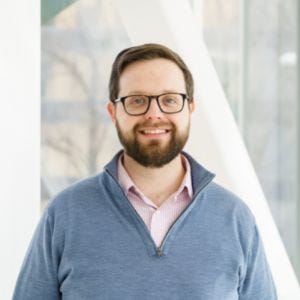 Carson Moore is the Director of Aeroflow Diabetes. He has been leading Aeroflow Diabetes since its inception. He hopes to simplify the complex and somewhat antiquated diabetes care industry to give patients world-class care that they can understand.
He graduated from the Georgia Institute of Technology with a Master's degree in Business Administration and a Bachelor's degree in Polymer and Fiber Engineering.
Alongside running the Diabetes center, Carson uses his knowledge of engineering and business to help bridge the gap between complex systems and the people who actually use them.
What is a typical day like for you?
While each day focuses on providing the best patient care possible, the activities of that day can be very different, and I love my job for that reason.
Some days are very patient-focused, and I spend most of my time communicating, caring, and hearing about ways to improve the patient experience. Other days, I focus on broader topics, such as exploring what technologies and capabilities we can adopt that can shift the landscape of our somewhat archaic industry.
What is your favorite part about your job?
My favorite part about my job is the people and patients I get the pleasure of working with. Every day, I learn about a new patient's story and how continuous glucose monitoring has quite literally changed or saved their lives.
We truly have some wonderful patients, and it's a pleasure when we're able to have some positive impact. Beyond our patients, my fellow team members are genuinely amazing. I am constantly blown away by their abilities and the genuine love and care they have for our patients.
It's an honor and pleasure to work by their sides.
What do you enjoy doing in your spare time?
I have two children under 3, so I no longer know what spare time is. Ok, so I'm mostly kidding.
One of the best parts about living in Asheville is having the mountains all around us. There are very few things I enjoy more than being able to take a Saturday morning hike with the family.