With the upcoming release of the Dexcom G7 comes new and improved features that weren't available with Dexcom's previous continuous glucose monitors (CGMs).
The Dexcom G7 will have a:
Smaller, sleeker design.
Faster sensor warm-up.
Transmitter and sensor combined into one system.
Compatibility with Apple Watch and other smart devices.
Improved glucose reading accuracy.
And more!
If you're managing your diabetes, you'll want to read this post to find out the details about these Dexcom CGM updates and more and discover if your new Dexcom G7 will be covered through insurance with Aeroflow Diabetes.
Dexcom G7 Expected Release Date
---
In March 2022, Dexcom announced that the G7 received a CE Mark in Europe for people with diabetes who are ages two and up.
While it's gotten approval in Europe, people in the US are still waiting for the clinical trials to finish before the FDA can approve it. However, it's expected that the G7 will get approval sometime in 2022 and will be released in late 2022.
What's New
---
The Dexcom G7 Continuous Glucose Monitor has many new features and updates when compared with the Dexcom G6 and many other diabetes technology devices on the market.
Along with no fingersticks, the Dexcom G7 CGM will have the following updates and improvements:
Smaller Size
The Dexcom G7 will be 60% smaller than the G6, hopefully causing less catching on clothing and other objects while you wear the new device.
Sleek Design
The G6's design was discreet, but not discreet enough! To keep up with other CGM manufacturers, such as Abbott, the G7 will be rounder, smaller, lighter, and thinner than the G6.
Quicker Warm-Up
Dexcom claims that the G7's 30-minute sensor warm-up will be the fastest of any CGM on the market* today. Moreover, it will be quicker than the G6's warm-up period, which takes 2 hours.
The start-up period begins when you apply the sensor to your skin and ends when you see the glucose readings on your smart device (or Apple Watch), meaning you'll receive your blood sugar readings faster than before with the G6.
Smoother Transitions
The G7 will come with a 12-hour grace period when you replace your old sensor with a new one, bringing smoother transitions to glucose readings during changing times.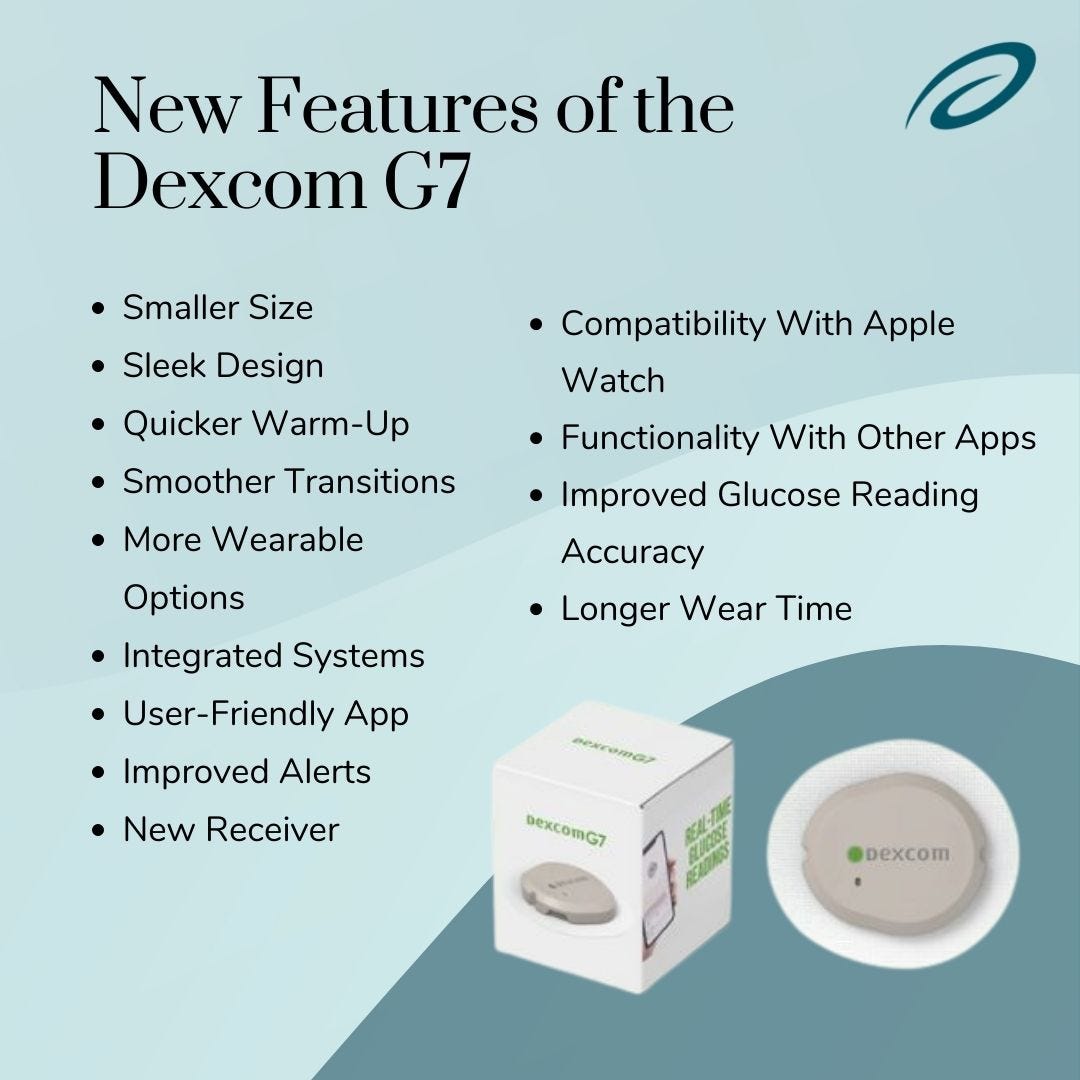 More Wearable Options
Rather than wearing the sensor on your arm, as seen before with the Dexcom G6, you'll be able to wear the new device on your upper arm or your stomach, giving you more versatile wearing options. For children ages 2 to 17, the G7 can also be worn on the upper buttocks.
Integrated Systems
Dexcom's G6 CGM System uses a separate transmitter and sensor that work together to send glucose readings to a reader or smart device, but the G7 will combine these two systems into an all-in-one device.
User-Friendly App
The new mobile app will be more user-friendly with a more straightforward design with the help of Dexcom Clarity; You'll have a brighter screen, faster calibration for quicker real-time readings, and more analytics available in your Dexcom app.
Improved Alerts
Alert settings on the G7 are designed to be more discreet, allowing you to silence your glucose alarm when you want, causing less stress and interruption during your days.
New Receiver
The G7's optional receiver will be smaller in size and will be made with a more readable display.
Compatability With Apple Watch
While the software is yet to be released, the G7 will be compatible with Apple Watch, making it easy for you to get your glucose readings at the glance of your wrist.
Functionality With Other Apps
The G7 will come with live integration with other apps, meaning you'll be able to receive your glucose readings on other smartphone apps rather than just the Dexcom reader app.
Improved Glucose Reading Accuracy
CGMs on the market today all have a certain level of inaccuracy when it comes to reading your blood glucose levels within the first 12 to 24 hours, but the G7 will improve on this with more accurate readings starting in the first 24 hours.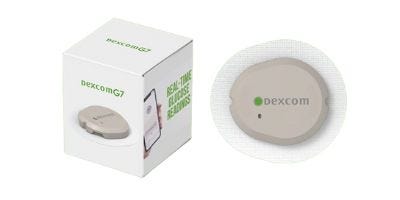 Usually, a CGM System's accuracy is based on a mean absolute relative difference (MARD) metric, which is read in the form of a percentage. This percentage tells you how far off your blood glucose reading might be from your actual glucose levels. So, the lower the percentage, the more accurate your sensor readings are.
The G7 has been reported to have a MARD reading of 8.2% when you wear the G7 on your upper arm, being the lowest MARD reading among other CGMs in the US.
Longer Wear Time
The G7 will be a 15-day sensor, giving you a longer wear time with accurate readings.
How Much Will the Dexcom G7 Cost?
---
If you were paying out of pocket for the Dexcom G6, it would cost you about $3,800 per year, and Dexcom hasn't yet revealed the price of the Dexcom G7, but it's expected to be around the same cost as the previous model.
If you're worried about spending money on your CGM Systems, you can apply to receive them at a low cost with Aeroflow Diabetes and your insurance. Fill out our Qualify Form to see if you're eligible today.
Will the Dexcom G7 Be Available Through Insurance?
---
If you already receive coverage for the Dexcom G6 through your insurance plan and Aeroflow Diabetes, you may be able to get the same or similar coverage for the new G7 when it's released in late 2022.
You'll get the same monthly or quarterly supply of the CGM, with the difference of receiving only the one integrated system rather than a sensor and transmitter you'd get with the G6 System.
How Can I Upgrade From the G6 to the G7?
---
If you already receive the Dexcom G6 through Aeroflow Diabetes and your Medicare or other insurance plans, you'll be able to upgrade to the G7 without needing a new prescription from your healthcare provider (unless your old prescription is about to expire).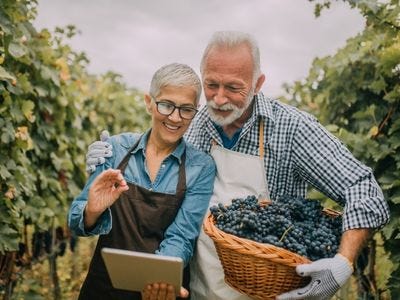 How Do I Get the Dexcom G7 If I'm a New Diabetes Patient?
---
If you're a new patient, you will need a new prescription from your healthcare provider to receive the Dexcom G7 upon its release in late 2022.
If you haven't already applied to get your CGMs at a low cost, do so today with our quick and easy form. It takes under five minutes— just have your insurance card at hand!
From there, one of our Diabetes Care Specialists will reach out to you after they've received the prescription from your healthcare provider.
After that, we'll send your CGM supplies directly to your door free through the mail. We'll also send you text or email reminders monthly so you won't run out of supplies.
Dexcom G7 Receives CE Mark – Next-Generation Continuous Glucose Monitoring System to Revolutionize Diabetes Management | DexCom, Inc. (n.d.). Investors.dexcom.com. https://investors.dexcom.com/news-releases/news-release-details/dexcom-g7-receives-ce-mark-next-generation-continuous-glucose
‌Dexcom G7: Get Ready for the Next Gen. (2021, March 10). Taking Control of Your Diabetes. https://tcoyd.org/2021/03/the-next-gen-dexcom-g7/
‌An Inside Look at the Dexcom G7. (2022, March 21). DiaTribe. https://diatribe.org/inside-look-at-dexcom-g7#:~:text=The%20Dexcom%20G7%20features%20several
‌Dexcom CEO Sayer on G7 FDA submission, developing a 15-day sensor, M&A plans. (n.d.). MedTech Dive. Retrieved June 9, 2022, from https://www.medtechdive.com/news/dexcom-ceo-g7-fda-15-day-sensor-ma/625013/?utm_source=Sailthru&utm_medium=email&utm_campaign=Issue:%202022-06-08%20MedTech%20Dive%20%5Bissue:42297%5D&utm_term=MedTech%20Dive
Aeroflow Diabetes Disclaimer
Information provided on the Aeroflow Diabetes website is not intended as a substitute for medical advice or care from a healthcare professional. Aeroflow recommends consulting your healthcare provider if you are experiencing medical issues relating to diabetes care.
*Dexcom G7 can complete warmup within 30 minutes, whereas other CGM brands require up to an hour or longer.