This piece has been medically reviewed by Rich Marlar, MD, Medical Advisor to Aeroflow Diabetes.
Halloween is an exciting time for children of all ages; Dressing up in costumes, visiting haunted houses, going to Halloween parties, and trick-or-treating are fun activities that no one wants to miss out on.
If your child has diabetes, enjoying Halloween and all its tasty treats may be tricky, but just because they have diabetes doesn't mean they should be excluded from the fun!
If you're a worried parent of a child who has diabetes, use these tips to ensure they're included in all the Halloween celebrations while safely managing their blood sugar levels.
How Candy Affects Blood Sugar
The first thing to understand about how Halloween candy might affect your loved one is how the candy they consume can change their blood sugar levels.
If your child has diabetes, their body has difficulty breaking down carbohydrates as it usually should due to a lack of insulin or insulin resistance. So, when your child eats carbohydrates, the carbs can't enter the cells and be used for energy as they usually would. This results in "starving cells," which cause your child's blood sugar to remain high.
Most candies contain high amounts of carbohydrates and sugars (which are refined carbohydrates), so if your child eats even one candy bar with too many carbs or too much sugar, their blood sugar levels may rise and put them in a state of hyperglycemia. To combat hyperglycemia, your child's body may need insulin injections to bring blood sugar back to a safe level.
How Many Carbohydrates Should My Child Consume?
This is a somewhat complicated question. As your child ages, their insulin-to-carbohydrate ratio will need to be adjusted based on the recommended caloric intake they need to stay healthy. It's generally recommended that people with diabetes get about half their daily calories from carbohydrates.
10 Tips for Celebrating Halloween With Diabetes
Halloween candy is a significant part of this spooky holiday's celebrations, so if your child has type 1 diabetes or type 2 diabetes, you may be concerned with their ability to participate in activities while controlling their blood glucose levels. Try out these tips to create an inclusive Halloween for them.
1. Use a Continuous Glucose Monitor (CGM)
If your child has type 1 or type 2 diabetes and needs insulin injections, a continuous glucose monitor (CGM) may help manage their glucose levels during busy Halloween celebrations.
CGMs can send blood glucose readings to a reader or your smartphone by scanning the sensors attached to your child's skin. The helpful blood sugar alerts can make Halloween less stressful for you as a parent, and the CGMs' ability to scan for readings rather than using fingersticks can make monitoring less painful for your child.
Also, CGMs allow blood sugar data to be shared with family members in real-time so that you can see your child's blood sugar when they are not with them. This is helpful if you have an older child who is trick-or-treating with friends.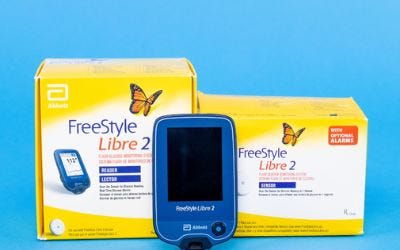 2. Talk to Your Child About Halloween
Before the holiday arrives, speak openly with your little one about what to expect. This way, rather than dealing with an upset child during Halloween night, they'll understand why you're setting limits. Having direct discussions may include:
Discussing how their medical condition affects their ability to eat as much candy as other trick-or-treaters.
Creating boundaries, such as which activities they can partake in and which ones (such as eating tons of candy) they need to be careful with.
Asking them what other activities they're excited about.
Offering alternatives to their favorite candy (healthy alternatives to sweet treats, other goodies like small toys, etc.).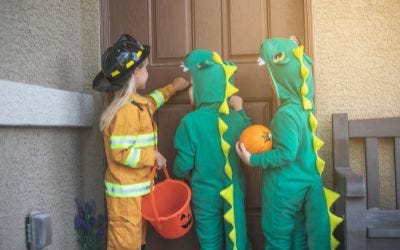 Coming up with a plan together about how to enjoy trick-or-treating on Halloween night.
3. Know Your Candy
It may be a good idea to look into which candies contain fewer carbohydrates or less sugar or are safer for people with diabetes to consume. Some of the worst candies your child can eat on Halloween are Fun Dip, Pixy Sticks, Candy Corn, Skittles, and Starburst because they are mostly sugar. You can either look at labels on candy bars or packets or do some research online. Candy bars, such as Twix, Snickers, and Kit Kats, have above 20 grams of carbs, so it's probably best to stay away from these or recommend the fun-size bars instead.
4. Adjust Insulin Doses
If you and your child set boundaries and decide they can indulge in certain Halloween treats, plan to adjust their insulin by counting the grams of carbohydrates in the pieces of candy your child is going to eat and match the insulin-to-carbohydrate ratio accordingly.
5. Test Blood Sugar Levels Before & After
Test your child's blood sugar levels before they consume candies and then again about two hours after consumption. This way, you can measure what level of carbs and sugars their body can handle while remaining in the safe blood sugar level range.
6. Monitor Candy Intake
If you're trick-or-treating with your child, try to monitor which candies they consume as the night goes on. Take a look at the carbohydrates and sugars in each piece they have.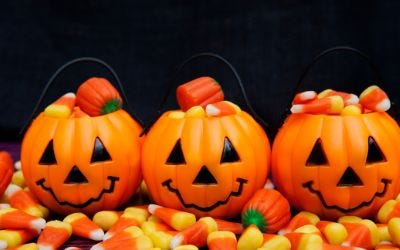 7. Avoid Snacking On-the-Go
If monitoring your child's candy intake while trick-or-treating sounds too painstaking, speak with them beforehand about waiting to eat the candy until you get home for the night. That way, you can help them safely count the carbs in the treats and monitor blood sugar levels.
8. Emphasize Other Halloween Activities
Show your child that there are many other aspects to Halloween besides eating candy. Some fun options you can enjoy with your child include:
Carving pumpkins and making roasted pumpkin seeds as a healthy treat.
Decorating the house for Halloween trick-or-treaters.
Shopping for or creating costumes.
Halloween arts and crafts.
Bobbing for apples.
Cider mills or corn fields for hay rides or corn mazes.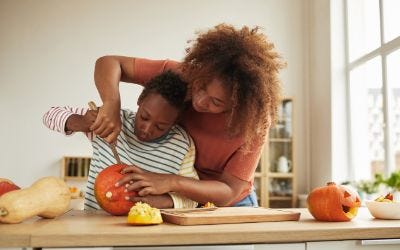 9. Negotiate
If your child is sad to give up candy after they trick-or-treat for it or receive it from parties, negotiate with them by trading candy for other fun activities. You can offer to take them to a haunted house, a hay ride, extended trick-or-treating hours, (age-appropriate) scary movies, or anything else you think your child may want to barter for!
10. Be Prepared!
If you're taking your child trick-or-treating, pack a bag that includes:
Short-acting insulin and glucometer (or CGM) at a minimum.
A form of glucagon to treat hypoglycemia since your child will be active and also taking insulin throughout the night.
Low-carb and low-sugar candy alternatives.
Water bottles.
Ensure your child gets a balanced meal before heading out to any Halloween party or activity so they don't rely on candy when they're hungry. You should also talk with your child's pediatrician or diabetes provider beforehand because they can lay the ground rules for safe Halloween activities and trick-or-treating.
Get Your Child a CGM Through Insurance
To make monitoring your child's blood sugar levels easier this Halloween, get them a CGM so they can enjoy the holiday fun without painful fingerpricks slowing them down! Aeroflow Diabetes may be able to supply your loved one with a CGM covered by insurance if they meet the requirements and have Medicare or other private insurance plans.
If they qualify, we'll ship their diabetes care supplies in the mail right to your doorstep! To see if your child qualifies, fill out our Eligibility Form. Then, we'll reach out to you 1 to 2 days after receiving a required prescription from your child's healthcare provider.
Carb and Calorie Counts for Different Brands of Candy. (n.d.). Verywell Fit. https://www.verywellfit.com/candy-nutrition-facts-calories-and-carb-counts-4117488
‌CDC. (2019). Diabetes and Carbohydrates. Centers for Disease Control and Prevention. https://www.cdc.gov/diabetes/managing/eat-well/diabetes-and-carbohydrates.html
Information provided on the Aeroflow Diabetes blog is not intended as a substitute to medical advice or care. Aeroflow Diabetes recommends consulting a doctor if you are experiencing medical issues or concerns.