Managing diabetes can be stressful, especially during times when you experience high blood sugar. Find out everything you need to know about blood sugar levels and how to lower them quickly.
Basics of Blood Sugar Levels
Let's first go over the basic terminology for measuring your blood sugar levels.
Glucose: Glucose is sugar. It comes from the foods you consume, including carbs, and is stored inside your body or used for energy.
mg/dL: Milligrams per deciliter. This measurement shows the concentration of glucose in your bloodstream.
Blood Glucose Level (BGL): The amount of glucose in your bloodstream.
Hyperglycemia: Hyperglycemia is the term for high blood sugar or high blood glucose. When your body enters hyperglycemia, it means you have too much glucose in your bloodstream.
If you have diabetes, your body either is not producing enough insulin or can't use insulin correctly which is referred to as insulin resistance. Insufficient insulin levels cause an excess amount of glucose in your blood, which can lead to high blood sugar levels.
You may also experience hyperglycemia if you:
Don't exercise enough.

Miss diabetes medication doses.

Are stressed or anxious.

Are battling sickness.

Eat too many carbohydrates.

Take medications that raise blood sugar.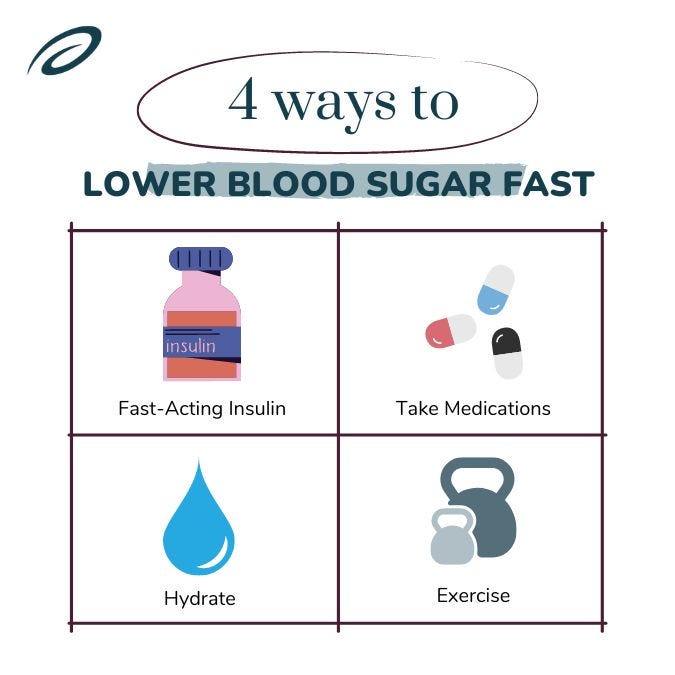 Is My Blood Sugar Too High?
For most people, normal or safe BGL is:
Less than 140 mg/dL when fasting (checking BGL after not eating for 8 or more hours).
Less than 180 mg/dL 2 hours after eating a meal.
In general, high or unsafe BGLs after eating a meal are:
140 mg/dL indicates hyperglycemia.
240 mg/dL indicates diabetic ketoacidosis (DKA). This can lead to a diabetic coma in type 1 diabetes.
600 mg/dL+ indicates hyperglycemia hyperosmolar syndrome (HHS) which can be fatal.
If you are experiencing BGL that indicates DKA or HHS, seek medical attention immediately.
Symptoms of Hyperglycemia
Extreme thirst or dry mouth.

Frequent urination.

Blurred vision.

Weight loss.

Fatigue or tiredness.

Nausea or vomiting.

Sweet-smelling breath.
If you're experiencing any of these symptoms, it's important to lower your blood sugar to safe levels.
How to Lower Blood Sugar Fast
Hyperglycemia is not a life-threatening condition in all situations. In most cases, there are steps you can take to quickly lower your blood sugar levels.
1. Use Fast-Acting Insulin.
This is the first step you can take to bring down your BGL.
Fast-acting insulin is different from slow-acting insulin because it works within 15 minutes after injecting it, while slow-acting insulin can take a few hours to lower blood sugar levels. Types of rapid-acting insulin include lispro (Humalog) or aspart (Novolog).
Ask your healthcare provider what the correct dosage is for you to keep your blood sugar at safe levels. After taking the fast-acting dose of insulin, check your BGL within a half hour to ensure your levels are safe and to prevent entering hypoglycemia (low blood sugar).
If you're experiencing hyperglycemia, you may want to check if you missed your insulin injections or other doses of diabetes medications.
If you did miss a dose, follow the guidelines given by your healthcare provider or contact them before double dosing.
Double dosing can be dangerous and put you into a state of hypoglycemia.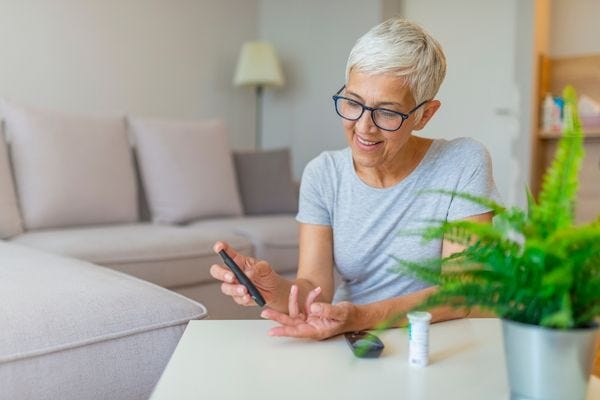 Hyperglycemia causes excessive thirst which indicates dehydration, so drink water. Hydrating with water lowers your blood sugar levels by helping your kidneys filter the glucose in your bloodstream more quickly which can reduce the amount of it in your body.
Physical activity can lower your BGL fast. This is also a great option if you don't have medications for hyperglycemic episodes. Exercising aids in lowering insulin resistance and uses up your body's energy which in turn uses the stored glucose in your system.
You should always contact your healthcare team for medical advice if you experience any symptoms of chronic hyperglycemia. Contact emergency medical attention if you experience any life-threatening symptoms.
How Continuous Glucose Monitors Help Avoid Hyperglycemia
Continuous glucose monitors (CGMs) are a great tool to have as part of your diabetes wellness plan. They help those with type 1 or type 2 diabetes avoid blood sugar spikes and lows by monitoring blood sugar readings easily without fingersticks.
At Aeroflow Diabetes, we know that tracking your glucose levels is a critical part of staying healthy which is why we offer them through insurance.
To see if you qualify, all you need to do is fill out our secure Eligibility Form. If you do qualify for coverage, we'll figure out the insurance paperwork for you and ship your CGM supplies directly to your home.
Diabetes UK. (2019). Normal and Diabetic Blood Sugar Level Ranges - Blood Sugar Levels for Diabetes. Diabetes.co.uk. https://www.diabetes.co.uk/diabetes_care/blood-sugar-level-ranges.html
Information provided on the Aeroflow Diabetes website is not intended as a substitute for medical advice or care from a healthcare professional. Aeroflow recommends consulting your healthcare provider if you are experiencing medical issues relating to diabetes care.