Monitoring your blood sugar is crucial to diabetes management, but pricking your skin multiple times a day for glucose readings can be a hassle.
Innovative diabetes supplies, like Abbott's FreeStyle Libre continuous glucose monitoring systems (CGMs), make glucose testing less arduous for children (4+) and adults.
However, while they are helpful, CGMs can be costly if you pay out of pocket. Thankfully, some Medicare insurance plans offer coverage for FreeStyle Libre so you can manage your diabetes more efficiently at a lesser cost.
Find out if your Medicare health insurance plan covers FreeStyle Libre, and read why Aeroflow Diabetes is the preferred provider for CGMs.
What Is a FreeStyle Libre System?
Abbott Diabetes Care currently offers 2 CGM systems approved by the FDA that monitor blood glucose levels for those with diabetes.
The CGMs come with a glucose sensor you apply to your skin and a digital reader that receives glucose readings. The sensors monitor your blood glucose by measuring glucose levels in your interstitial fluid. To receive your readings, you scan the sensor, and data is displayed on your reader.
*Medicare does not currently cover the FreeStyle Libre 3 system. Learn why.
FreeStyle Libre 14 Day System
Reduces the hassles (1) of continuous glucose monitoring by giving you real-time glucose readings with a painless (1) scan rather than using fingersticks*.
Automatically measures glucose readings day and night* and is accurate for insulin dosing(1)*.
Water-resistant sensor, so you can swim*, shower, and exercise while wearing it.
Each scan shows 8 hours of glucose history.
Comfortable to wear (1).
Sensor lifespan of 14 days.
No calibration required.
Sensor warm-up time of 1 hour.
Works with FreeStyle Librelink app.
*As of fall 2021, the FreeStyle Libre 14 Day System has been discontinued. However, for patients already on the system, the sensors are still supported.
FreeStyle Libre 2 Day System
Optional, real-time glucose alarms* that notify you when you are low or high (+).
Unsurpassed 14 ay accuracy(1) for adults and children with diabetes (ages 4 and older(+).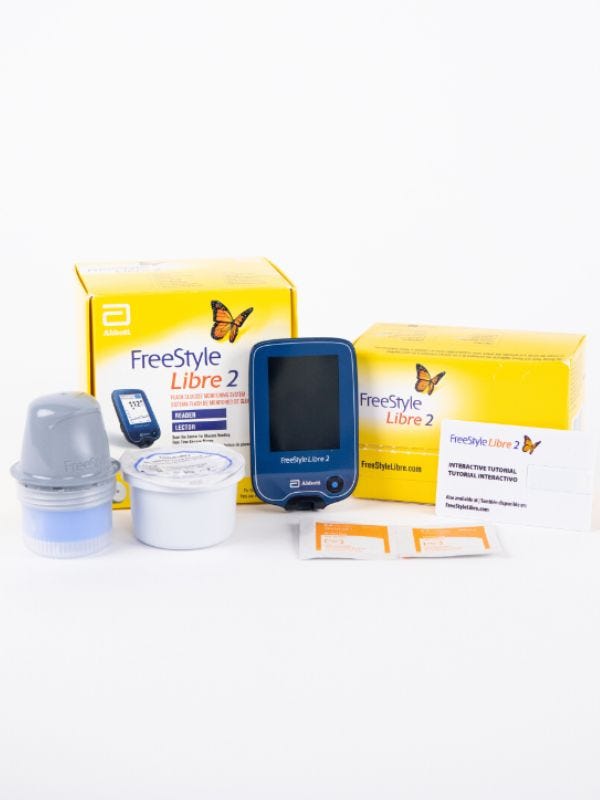 No confirmatory fingersticks* required for insulin dosing, even when glucose is low, falling, or rapidly changing.
Easiest iCGM sensor to apply* with no in-person patient training required(1).
Adjust insulin dosing without the need for fingersticks*(1).
Do Medicare Plans Cover FreeStyle Libre Systems?
Medicare Part B: CGMs are covered for Medicare patients under Medicare Part B, which provides medical insurance coverage and outpatient care, including home durable medical equipment (DME) and medical supplies such as CGMs. If you have Medicare Part B, have diabetes, and need a CGM that your healthcare provider prescribes, Medicare may pay for a portion of the FreeStyle Libre cost.
Medicare Advantage (Part C): If you have a Medicare Advantage / Part C / private insurance plan, your plan most likely follows Medicare Part B coverage criteria and guidelines. However, the cost will depend on your unique insurance coverage.
What Is Covered?
Medicare will cover the following FreeStyle Libre supplies:
Sensors: This attaches to your arm to measure your blood sugar.
Reader: A device that receives the data from your readings.
How Many Are Covered?
Sensor: Medicare will cover refills for the sensors according to how long they last.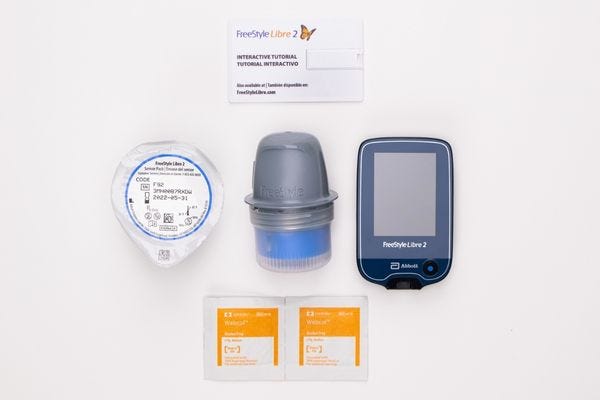 You cannot get coverage for extra sensors beyond the prescribed amount.
Reader: Your reader will be covered when you initially receive your supplies.
*You may still pay out-of-pocket costs depending on additional charges.
How Do I Qualify for a CGM Through Medicare?
To be covered by Medicare for the FreeStyle Libre, you will need to:
Be enrolled in Part B and pay the monthly premium.
Obtain a doctor's order that says your CGM is medically necessary.
Inject insulin a certain number of times a day.
*Due to the COVID-19 pandemic, Medicare has temporarily extended telehealth service for those with diabetes. Because of this, you can use telehealth without leaving your home to meet with your healthcare professional to obtain a CGM prescription.
If My Medicare Plan Covers FreeStyle Libre Systems, How Much Do I Pay?
It depends on if you have traditional Medicare or a Medicare Advantage plan.
Typically, your CGM reader and supplies will be covered under the medical benefit of your Medicare insurance. This means what you owe will depend on your deductible and out-of-pocket limits.
This can sometimes mean your insurance doesn't pay anything towards your CGM reader and supplies (you pay the entire cost), and it can sometimes mean the insurance pays the whole amount (you pay no price).
You will pay the total cost of your CGM supplies until your deductible is met. Once your deductible is met, you will be responsible for some portion of the price (co-insurance) until your out-of-pocket limit is met.
Where Can I Get My FreeStyle Libre System?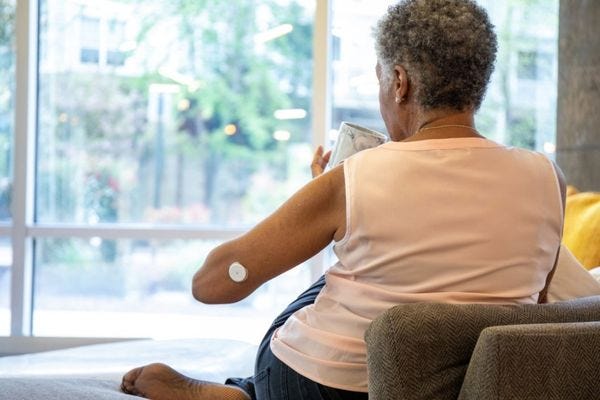 If you have type 1 diabetes or type 2 diabetes and need a CGM, the FreeStyle Libre is a wonderful option for making managing your glucose levels easier.
Paying for your FreeStyle Libre from a retail store would require a prescription and cost over $100 for the first month of supplies alone. Then, every couple of months, you would need to refill your sensors, which would eventually add up to a large sum of money you shouldn't be spending on diabetes care that's vital to your quality of life.
The best way to get the blood glucose monitoring supplies you need is to get them covered by Medicare with Aeroflow Diabetes!
Why?
We know that managing diabetes is critical to your lifestyle, so we want to make it as easy as possible. That's why we:
Help you navigate your insurance company's policies and understand your Medicare coverage— after filling out our Eligibility Form, you'll know within days if you are covered and what you're covered for!
Offer a variety of CGMs that can be covered by Medicare, such as the Dexcom G6.
Reach out to your healthcare provider on your behalf for a prescription (if you want your supplies faster, you can let them know we'll be getting in touch with them).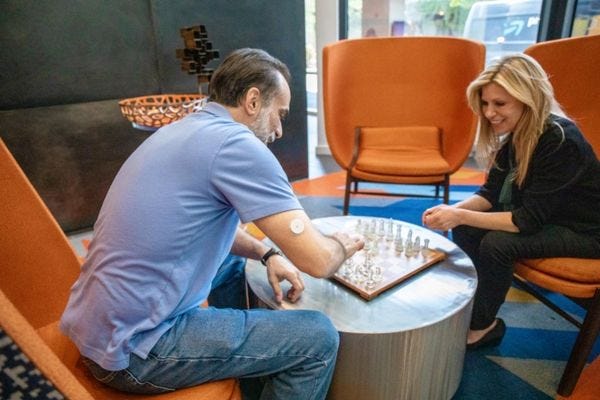 Aeroflow Diabetes Disclaimer
Information provided on the Aeroflow Diabetes website is not intended as a substitute for medical advice or care from a healthcare professional. Aeroflow recommends consulting your healthcare provider if you are experiencing medical issues relating to diabetes care.
FreeStyle Libre 14 day System Disclaimers
1. Haak, T. Diabetes Therapy (2017): https://doi.org/10.1007/s13300-016-0223-6.
1. Haak, T. Diabetes Therapy (2017): https://doi.org/10.1007/s13300-016-0223-6.
* Fingersticks are required for treatment decisions when you see Check Blood Glucose symbol, when symptoms do not match system readings, when you suspect readings may be inaccurate, or when you experience
* Based on the sensor being replaced once every 14 days and scanned at least once every 8 hours.
1. FreeStyle Libre 14 day User's Manual.
*Sensor is water-resistant in up to 1 meter (3 feet) of water. Do not immerse longer than 30 minutes.
FreeStyle Libre 2 day System Disclaimers
* Notifications will only be received when alarms are turned on and the sensor is within 20 feet of the reading device.
1. FreeStyle Libre 2 User's Manual.
*Fingersticks are required if your glucose alarms and readings do not match symptoms or when you see Check Blood Glucose symbol during the first 12 hours.
* Based on a comparison to Dexcom G6.
1. Data on fi le. Abbott Diabetes Care.
* Fingersticks are required if your glucose alarms and readings do not match symptoms or when you see Check Blood Glucose symbol during the first 12 hours. 1. FreeStyle Libre 2 User's Manual.