These days, people are on the run and often short on time to plan and prepare satisfying, healthy foods for every meal or snack. It's almost impossible to avoid eating at fast food restaurants all the time, especially when you're on the go. Traveling, stuck in an airport, or running around town during a busy day of errands... there are plenty of times when fast food is the only option to carry you through til dinner.
There may also be times when you have a hankering for a specific fast food treat. After all, people with diabetes aren't immune from cravings, and it's important to find healthy ways to indulge them every now and then. Otherwise you may be too rigid with yourself and run the risk of falling off the healthy diet wagon altogether.
Are fast food restaurants off limits for people with diabetes?
The short answer is no. While fast food chains may get a bad rap when it comes to healthy options, there are actually ways to find decent fast-food meals that won't blow your daily budget for carbohydrates and cause a dangerous spike in blood sugar. All the major chains will list nutritional information on the websites, and some even have apps that let you build your own meal by mixing and matching different menu items to see how they stack up in terms of carbohydrates, calories, and fat.
People with diabetes frequently shoot for between 45 and 60 grams of carbs per meal, though there is no one-size-fits all formula, according to the American Diabetes Association. It's also important to limit calories, sodium and unhealthy fats. A dietitian or a diabetes educator can help you hone in on your target numbers and develop a healthy meal plan based on your lifestyle and goals.
The most important thing to remember is to apply the same rules to fast food as you would to any healthy diabetes diet. Make veggies and lean proteins the focus of your meal. Avoid high-sugar sodas and opt for bottled water or unsweetened tea. Replace a white bun with a whole grain one, or better yet, ditch the hamburger bun altogether. Be vigilant about reading nutritional labels and limiting portion sizes. Sub out the side of fries, chips, or pasta salad with a side salad.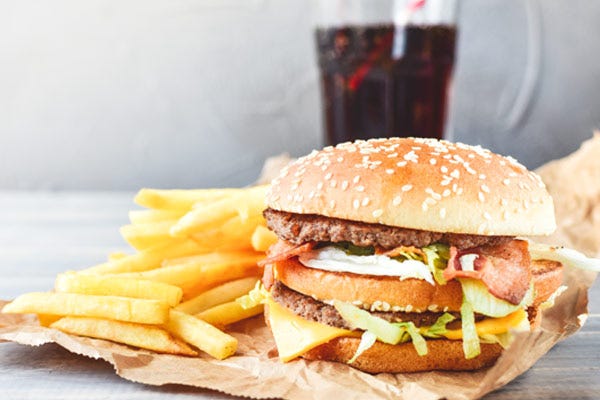 Steer clear of menu items with words like 'loaded' and 'extreme,' as these are typically packed with extra carbs, calories, and unhealthy fats. Be wary of condiments and salad dressings, and order them on the side whenever possible. Ketchup contains a lot of sugar, and some of the low-calorie or low-fat salad dressings will rely on sugar and sodium to give them a decent flavor as well. And of course, check your blood sugar levels before you eat and at least two hours after to make sure your numbers stay in a healthy range.
In order to prepare you with the knowledge you need before you hit the drive through, we've gathered a list of some of the best fast food picks for people with diabetes. Bon Appétit!
---
McDonald's
McDonald's is known for its burgers and french fries. While fries are not recommended for people with diabetes due to their high carbohydrate and sodium levels, burgers can be enjoyed in moderation, especially if you don't eat the bun. If you do go for the fries anyway, make sure to eat them with protein to help prevent your blood sugar from rising too quickly. Check out the McDonald's nutrition calculator to find complete nutrition information on their menu items.
McDonald's scrapped their salad and wrap options due to supply chain shortages in 2020, and grilled chicken is not available at all restaurants, only crispy chicken. That cuts down considerably on the diabetes-friendly food choices they have available. Here are a couple of remaining options:
Classic Hamburger
31 grams of carbs, 12 grams of protein, 9 grams of fat, 510 mg of sodium, 250 calories
If you forego the bun, the carbs drop to just 3 grams!
6-piece Chicken McNuggets (no sauce)
15 grams of carbs, 14 grams of protein, 15 grams of fat, 250 calories
---
Starbucks
Starbucks has come a long way from the chain known only for its coffee drinks and pastries. Starbucks now offers a full line of sandwiches, breakfast, and grab-and-go snacks that can help satisfy your hunger as you refuel on caffeine. Skip the bakery display case (especially those giant bagels) and focus on low carb items like protein boxes, egg bites, wraps, and sandwiches (ideally minus the bread.)
For your coffee fix, stick to regular, unsweetened coffee, caffè Americano, or coffee drinks made with sugar free syrup and low-fat milk (look for the 'skinny' options on the menu.)
Some of the best food options for people with diabetes at Starbucks include:
Egg White and Roasted Red Pepper Egg Bites
11 grams of carbs, 12 grams of protein, 5 grams of fat, 170 calories
Grilled Chicken and Hummus Protein Box
32 grams of carbs, 22 grams of protein, 9 grams of fat, 300 calories
Spinach, Feta and Egg White Wrap
34 grams of carbs, 20 grams of protein, 8 grams of fat, 290 calories
---
Burger King
At Burger King, like McDonald's, the best bet if you want a burger or chicken sandwich is to ditch the bun, hold mayo and cheese. Avoid the crispy or fried chicken and stick to the grilled chicken, and if you order a salad, be sure to count the carbs included in the dressing. Some of the healthier options at Burger King include:
Hamburger
29.4 grams of carbs, 13.2 grams of protein, 9.5 grams of fat, 254 calories
Garden Side Salad with Golden Italian Dressing
5 grams of carbs, 4 grams of protein, 5 grams of fat, 185 calories
---
Taco Bell
There are seemingly endless options for people with diabetes at Taco Bell due to the size of the menu and the fact that most items are highly customizable. Leaving off the sour cream and cheese and adding guacamole will swap out healthy fats for unhealthy fats. You can order tacos and burritos without the shell or tortilla altogether for minimal carbs. There are plenty of hot sauces and salsas to top off your meal, but make sure to count the carbs and sodium levels in them before loading up. Taco Bell's nutrition calculator is a handy tool that will allow you to build a diabetes-friendly meal at a reasonable price. The nutrition info listed for the following items is for the item ordered with no customizations.
Black Bean Chalupa
37 grams of carbs, 10 grams of protein, 4 grams of fat, 340 calories
2 Chicken Soft Tacos
32 grams of carbs, 24 grams of protein, 10 grams of fat, 360 calories
2 Crunchy Tacos
26 grams of carbs, 16 grams of protein, 7 grams of fat, 340 calories
Side of Black Beans
8 grams of carbs, 2 grams of protein, 1 gram of fat, 50 calories
---
Wendy's
At Wendy's you can always ask for substitutions like leaving off the mayo and cheese to cut down on fat content and requesting grilled instead of crispy chicken in any of the salads. They also make it easy to order a burger or sandwich as a lettuce wrap, which is one of the best ways to save on precious carbs. Here are some of your options:
Junior Cheeseburger
26 grams of carbs, 14 grams of protein, 14 grams of fat, 290 calories
Parmesan Caesar Grilled Chicken Salad
7 grams of carbs, 42 grams of protein, 9.5 grams of fat, 440 calories
Small Chili
22 grams of carbs, 16 grams of protein, 11 grams of fat, 240 calories
Grilled Chicken Sandwich
35 grams of carbs, 33 grams of protein, 8 grams of fat, 350 calories
---
Chick-Fil-A
Chick-Fil-A is one of the most popular chicken restaurants in the country, but they also boast a good selection of salads and soups. Some restaurants will allow you to sub out the white bun for a whole wheat bun as well. Here are some diabetes-friendly menu items:
Chick-Fil-A Chicken Sandwich
41 grams of carbs, 29 grams of protein, 4 grams of fat, 440 calories
Bowl of Chicken Noodle Soup
38 grams of carbohydrates, 23 grams of protein, 10 grams of fat, 340 calories
Grilled Nuggets (no sauce)
1 gram of carbohydrates, 25 grams of protein, 3 grams of fat, 130 calories
Grilled Market Salad with Grilled Nuggets
41 grams of carbs, 32 grams of protein, 32 grams of fat, 570 calories
---
Information provided on the Aeroflow Diabetes blog is not intended as a substitute to medical advice or care. Aeroflow Diabetes recommends consulting a doctor if you are experiencing medical issues or concerns.