Getting your continuous glucose monitor (CGM) through Medicare with a durable medical equipment (DME) supplier is beneficial to people with type 1 or type 2 diabetes because not only does it make managing your blood glucose levels easier, but it also significantly lowers the pricing of the blood glucose monitor you use as a part of your diabetes treatment plan.
If you're using Aeroflow Diabetes to get your CGM with Medicare coverage but find yourself wondering why you need a prescription to obtain your CGM system, read this post. We'll tell you why you need the prescription and how to get your CGM through Medicare if you haven't signed up to do so with us yet.
Why Do I Need a Prescription for a CGM Through Medicare?
Many people with diabetes wonder why they need a prescription to receive a CGM through Medicare.
The short answer is that most things covered through insurance require some sort of confirmation of need. In the case of CGMs through Medicare, it's proof that you are a person with diabetes who meets the requirements for coverage, which are:
Have a diagnosis of diabetes type 1 or type 2.
Use a traditional blood glucose meter and test blood sugar levels 3 or more times a day.
Are treated with insulin injections or insulin pumps.
Require frequent adjustments to their insulin regimen.
Have an in-person visit with a doctor to evaluate glycemic control and whether they meet the above criteria, as well as follow-up appointments every 6 months after prescription.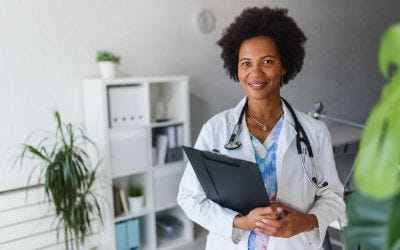 Medicare requires that all people who meet this criterion have something called a "standard written order" that ensures they meet these criteria. These standard written orders are used by the Medicare Provider, Enrollment, Chain, and Ownership System (PECOS) and are written by your healthcare professional to show that you require a CGM device through health insurance.
A standard written order usually consists of:
Your basic personal information (name, address, phone number).
Your insurance information.
Your healthcare provider's basic information (address, phone number).
The details of the CGM your provider is recommending you receive through Medicare.
Your diabetes-related medical diagnosis (known as the ICD10 code).
The prescribed number of glucose tests per day, as recommended by your provider.
Your current insulin regimen.
Your physician's proof of the order, such as a signature and date.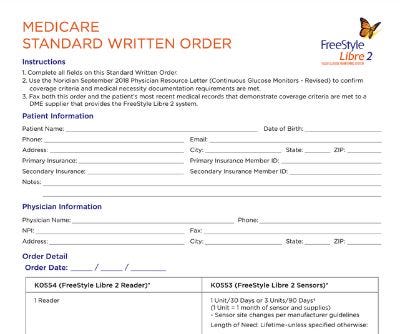 Without this standard written order, Medicare cannot determine whether or not you are a person with diabetes who meets the coverage criteria for a CGM, so without it, your coverage may be denied.
Which CGMs Can I Get Through Medicare & Aeroflow Diabetes?
If you are a Medicare beneficiary, you may be eligible to receive a variety of CGMs that Medicare covers through Aeroflow Diabetes.
These CGMs include:
Abbott FreeStyle Libre 2 System
Abbott FreeStyle Libre 3 System*
Dexcom G6
Dexcom G7*
The CGMs Aeroflow Diabetes supplies do not require fingersticks* to measure blood sugar levels, making your diabetes management more effortless.
How to Get a CGM With Aeroflow Diabetes
If you have type 1 or type 2 diabetes and meet the required criteria for a CGM covered through insurance, you may be eligible to receive your CGM through Aeroflow Diabetes. We offer CGMs that are leading the way in diabetes technology advancements! We connect you with a diabetes expert, reach out to your healthcare provider on your behalf for the standard written order (prescription), and ship your supplies right to your door.
To see if you qualify today, fill out our Eligibility Form.
After completing the form, we'll reach out to your healthcare provider, and once they send us your standard written order, we'll contact you within 1 to 2 business days with the next steps of the process.
Aeroflow Diabetes Disclaimer
Information provided on the Aeroflow Diabetes blog is not intended as a substitute for medical advice or care. Aeroflow Diabetes recommends consulting a doctor if you are experiencing medical issues or concerns.
*FreeStyle Libre 3 System is expected to be available late 2022.
*Dexcom G7 is expected to be available late 2022.
* Fingersticks are required if your glucose alarms and readings do not match symptoms or when you see Check Blood Glucose symbol during the first 12 hours.