National Blood Pressure Month is a good time to check in with yourself and how you manage your stress, especially if you have diabetes.
Did you know that people with diabetes often have high blood pressure, which can increase the risk of cardiovascular events, like heart attack and stroke?
Check in on your stress levels during National Blood Pressure Month with this article by learning how to prevent your stress from affecting your health.
Can Stress Cause High Blood Pressure?
Short-term stress affects everyone differently but can cause high blood pressure, also known as hypertension, in people with and without diabetes.
When you're in a stressful situation, your body releases the stress hormones cortisol and adrenaline. These hormones put your bodies into "fight or flight" mode, which prepares your body for danger. During this mode, your heart rate increases which constricts blood vessels. The increased heart beat and constricted blood vessels raises your blood pressure, but after your stress level drops, your blood pressure returns to normal.
People who are in chronic stress are in a state of "fight or flight" mode for extended periods, which may cause their blood pressure to remain high, but there has not yet been enough research to conclude any concrete answer on this topic.
How Do Stress & High Blood Pressure Relate to Diabetes?
The effects of stress can raise blood sugar levels in people with diabetes. This is because stressors cause an increase in the hormone cortisol, which is our body's natural "steroid" produced by the adrenal glands. In addition, people who are stressed commonly have worse dietary (fast / junk food, stress eating, grazing, etc.) and lifestyle habits (not exercising). These unhealthy lifestyle choices can increase the risk of diabetes.
Higher blood pressure is also very common in people with diabetes. While diabetes does not directly cause blood pressure issues, the treatment for high blood pressure is different for those with diabetes because high blood pressure can cause:
Cardiovascular events, like heart attack or stroke
Symptoms of High Blood Pressure
Headaches

Dizziness

Nausea or vomiting

Pain in the chest

Blurred vision

Anxiety

Difficulty breathing

Confusion

Abnormal heart beat
Blood Pressure Goals
Blood pressure is typically checked at any routine visit with your healthcare provider or cardiologist. There are other methods for checking blood pressure on your own, whether it be a home blood pressure monitor or a blood pressure machine at the drugstore. For the most part, these methods are reliable, though it's best to compare readings from other sources to ensure your results are consistent. For instance, you can take your home blood pressure monitor with you to your medical visits to compare your results to theirs.
The recommended blood pressure goals are lower for people with diabetes is <130/80.
For those without diabetes, the blood pressure goal is typically <140/90.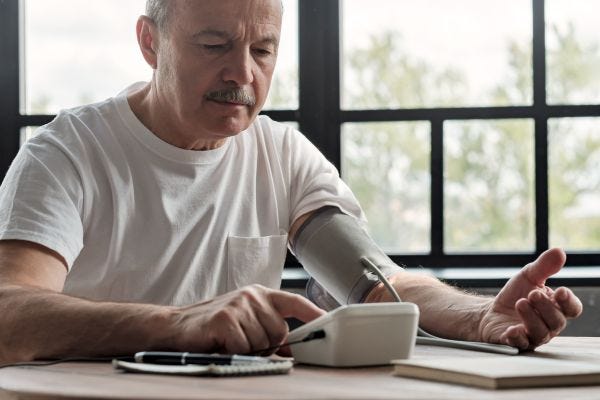 Tips for Managing Blood Pressure & Stress
Make the following lifestyle changes to lower stress levels. Proper stress management can reduce the risk of high blood pressure.
1. Exercise Regularly. You should aim to exercise at least 3 times per week for at least 30 minutes at a time. Regular exercise and physical activity like this can significantly reduce your stress levels. Cardio exercise is especially good for heart health and maintaining lower blood pressure.
2. Eat a Healthy Diet. Choosing healthier foods and avoiding foods high in sugar and sodium can help keep blood sugar levels and blood pressure low.
3. Maintain a Healthy Weight. Any amount of weight loss, especially in people with obesity, can have a significant impact on high blood pressure and blood sugar levels.
4. Limit Alcohol & Quit Smoking. Doing both of these will help lower blood pressure as they can increase blood pressure levels.
5. Improve Mental Health. Managing symptoms of stress by meditating, talking with a therapist, spending more quality time with friends or family, or just going for a walk are all beneficial for stress levels.
How to Get Low-Cost Continuous Glucose Monitors
While continuous glucose monitors (CGMs) make managing diabetes much easier, they can be expensive out of pocket. But you may qualify to get yours covered by insurance with Aeroflow Diabetes! To find out if you're eligible to get the best CGM supplies at low-cost shipped directly to your door every month, fill out our secure Eligibility Form. We'll determine your coverage within 1-2 business days and you'll be able to choose which CGM you'd like based on your unique needs.
---
Disclaimer
Information provided on the Aeroflow Diabetes website is not intended as a substitute for medical advice or care from a healthcare professional. Aeroflow recommends consulting your healthcare provider if you are experiencing medical issues relating to diabetes care.
---